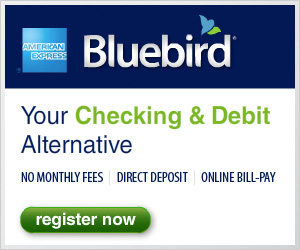 AMEX Bluebird by (Pre-Paid) Credit/Debit Card-

great way to shop online or use for Freebies/Deals and not use your main credit cards.

I love American Express they have a great fraud department.The best part about this card is it won't get you into debt!!! Now that's something that would make anyone happy!

Bluebird is brought to you by American Express and Walmart, giving you the following features-




*You can make Direct Deposits, pay bills online, add checks with the Bluebird Mobile App, and set up Sub-Accounts — a great new way to manage family spending.




*There are no annual, monthly, or overdraft fees and no minimum balance required.




*Purchase Protection can provide coverage if an eligible purchase made with your Card is accidentally damaged or stolen within 90 days of purchase.




*American Express Customer Service is there for you 24 hours a day, 7 days a week. And it's super easy to open a Bluebird Account since there are no credit reviews.




*And many more benefits!!!!